BUSINESS HOURS
Mo, Tu, We, Th, Fr
8:00am – 6:00pm
Sa
9:00am – 2:00pm
The Best Auto Body Repair Shop in Torrance
There is nothing fun about an auto accident. Besides ruining your day, you may have physical injuries you have to heal from and emotional trauma, especially if you had your kids in the car with you. On top of all that, you now have a car you need to get fixed.
Autobahn Collision Center on Hawthorne Blvd is here to help. We offer the best auto body repairs, glass replacements, auto body paint, and frame repair at our collision center. We will also help you with your car insurance by filing the claim for you and sending all of the repair paperwork to them. We understand that you are shaken; let us handle the worry and hassle of your car repair after an automobile accident. Call our Hawthorne Blvd auto repair shop today!
WHY CHOOSE AUTOBAHN COLLISION REPAIR CENTER ON HAWTHORNE BLVD

INSURANCE CLAIMS
One of the biggest headaches of getting in a car accident, even just a slight fender bender, is the insurance aspect. You have to call your insurance company, they call you to get your story, you take your car to an auto body repair shop, you wait on your car to be repaired, your insurance agent calls, and the list goes on and on. When you partner with Autobahn Collision Center on Hawthorne Blvd, we will handle all of the insurance claims related to your repairs. All you have to do is provide us with your car insurance information, and we take care of the rest. If there is an auto repair your car insurance won't cover, we'll let you know and give you the choice. Outside of your deductible, there should be no charges barring any extra auto repairs you want done (hey, you have your car in the shop; why not invest in a car wrap while your car is there?). Here at Autobahn Collision Center on Hawthorne Blvd, you can rest assured you will have your car returned as good as new as quickly as possible.

EXPERT AUTO BODY TECHNICIANS
Our goal here at Autobahn Collision Center on Hawthorne Blvd is to exceed your expectations with the quality of auto body work we do. To achieve that goal, we employ the industry's best certified auto body repair technicians for car frame repair, windshield replacements, auto body paint, and more. For over 20 years, we've been offering collision repair services in the greater Los Angeles area. Our technicians continue to gain knowledge and experience with on-going training opportunities. We employ the latest in diagnostic and repair technology so that we are always on the cutting edge of innovative practices and procedures. Furthermore, we constantly upgrade our automotive repair equipment and tools to ensure their effectiveness and to minimize downtimes. This helps us to continue to offer our auto body repair customers timely repairs and to maximize our turnaround times so you will have your car returned as good as new.

CUSTOMER SERVICE
Stellar customer service is hard to come by these days, especially in Torrance. Here at Autobahn Collision Center on Hawthorne Blvd, we aim to up the ante in terms of customer service. From the moment you get in a car accident, we can help, from having your vehicle towed to our auto body shop at no charge to offering you a free estimate after we do a detailed examination of the state of your vehicle. You are under no obligation to get your car fixed with us. Once you partner with us, you will be blown away with our customer service. Not only will you work with your insurance company on your auto collision, but we'll ensure you are set up with a rental car that should be covered by insurance as well while your car is in the shop, and keep in constant contact with you with regards to the status of your auto body repair. You can rest assured that we are working extremely hard to get your car back to you in the best possible condition as quickly as possible.

DEDICATION
At Autobahn Collision Center on Hawthorne Blvd, we never just go through the motions. Our staff realizes what a privilege it is to come here and work with our amazing staff and customers and help our customers fix their cars when they need it the most. We realize that our customers didn't choose to be in a car accident, and thereby need our auto collision services. So once our customers are here, we do everything we can to make their experience with us smooth, not cumbersome, and easy. You will be greeted with a smile or by a friendly voice on the phone who can answer all of your questions and get your needs taken care of. Our expert auto body technicians are passionate about their collision repair work and pour their hearts and souls into all of the little details that make your car great. We'll walk you through the entire auto body repair process, and when you come to pick up your vehicle, we'll show you all of the improvements we've made. Our mission is to ensure 100% customer satisfaction with our auto body repair services. We don't settle for less than that.
ALL OF OUR AUTO BODY WORK IS PERFORMED:
• By certified technicians with years of experience
• Using cutting-edge tools and the best equipment available
If you're anywhere in Los Angeles county, you deserve the best auto body repair available, so give us a call or stop by our Western Ave. shop today.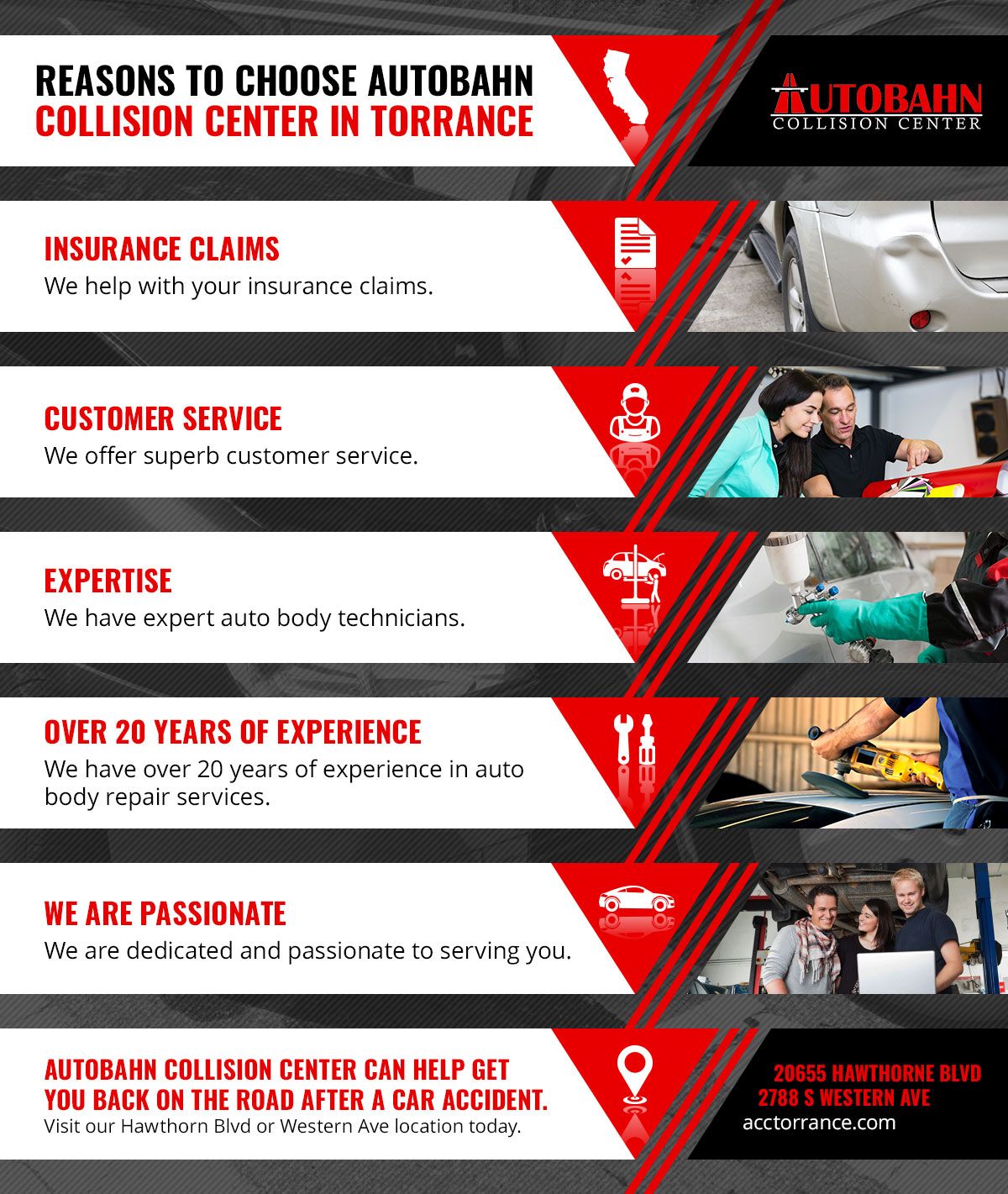 AUTO COLLISION REPAIR
No one truly wants auto collision repair services. After all, that means you got in a car accident. However, now that you need it, you want the best auto collision repair company in Torrance. Autobahn Collision Center on Hawthorne Blvd offers the best collision repairs. Our expert auto body technicians work tirelessly to ensure that your vehicle is restored back to its original condition after an auto accident. From windshield repair and replacement to car frame repair and auto body paint, your vehicle will be ready to take your kids to school, to go on your next road trip, and to make sure you get to work and back home to your fur babies.
AUTO BODY PAINT
Let's face it, the color of your car was probably one of the deciding factors when you originally bought it. Research has shown the most popular car colors to be white, black, grey, or silver, so much so that over 70% of cars are one of those colors. When you get in a car accident, odds are, the paint got scuffed up as well. The job of a top-notch auto body paint shop, such as Autobahn Collision Center on Hawthorne Blvd, is to match the color of your car's paint so that it can be restored, looking brand new and no worse for the wear.
That being said, perhaps you want to deviate from the norm and choose a color that will stand out, such as lime green, baby blue, or bright orange. Our auto body paint shop can paint your car, motorcycle, trailer, or truck any color you want, as well as add in some cool designs. We use top-of-the-line technology so that your vehicle will be back on the road in no time.
TOW TRUCK COMPANY
When you get in a car accident, you now have the dilemma of figuring out where to take your car that perhaps is not able to be driven. After the initial shock has worn off, you are now faced with the reality of decision making, the first being how to get your car to an auto body repair shop as soon as possible.
When you partner with Autobahn Collision Center on Hawthorne Blvd for your car collision repair, we will come and pick you up, tow your vehicle, and bring you to our shop at no charge. There, you can talk to one of our friendly representatives about the car collision repair process, while we write up a free estimate of the needed repairs on your vehicle. You are under no obligation to choose us; however, we believe you won't be let down should you do. Our tow truck services are just one way we offer the best customer service for auto collision repair in Torrance.
INSURANCE CLAIMS FOR AUTO ACCIDENTS
We all realize the necessity of having auto insurance — for times such as these. That doesn't mean, however, that the insurance claim process is a walk in the park. After you get through the initial police report, swapping car insurance information with the other party involved, and the adrenaline rush has died down, next up is dealing with your insurance company and putting in a claim.
If you've elected to partner with Autobahn Collision Center on Hawthorne Blvd, your worries will stop at this point. Once you pass along to us your insurance information, we will handle all of the claim process moving forward, including sending off the estimate and payment as well. In fact, you can elect to just pay your deductible to us, and you're done. Your car will be repaired with the help of our expert auto body techs, and you will be back on the road in no time.
CAR FRAME REPAIR
Usually in an automobile accident, the frame of your car will sustain some sort of damage. Being how integral it is to the functionality of your car, as well as to safety, you'll want to ensure that your car frame repair is done right.
Autobahn Collision Center on Hawthorne Blvd has been serving the greater Los Angeles area with collision repair services since 1995. Car frame repair entails straightening the frame back to its original position using a computer-aided, often laser-guided machine that is specifically designed to detect flaws in your car's frame. Then another technology-driven tool will use hydraulic pulling and ramming to set your car's frame back to its original shape. This is usually the first step in the auto body repair process and one of the most important.
PAINTLESS DENT REPAIR
Paintless dent repair or removal is one of the most efficient means that auto body shops have to fix car dents, either from car accidents or from hail. This environmentally-friendly process involves the use of special tools to push dents out, putting the metal back into place. Usually, this simply involves the removal of panels, tail lights, or other exterior car elements to achieve.
Autobahn Collision Center on Hawthorne Blvd offers paintless dent repair to anyone who needs their dents or hail damage removed. This is a quick process that can be a same-day service. There is the most cost-effective way to remove dents, it's convenient for the customer, and there are no concerns about color-matching.
WINDSHIELD REPAIR & REPLACEMENT
Oftentimes in car accidents, your windshield or car windows sustains damage, such as cracking or breaking all together. Here at Autobahn Collision Center on Hawthorne Blvd, we aim to be your all-inclusive collision center, fixing whatever damage has occurred to your vehicle from a car accident, including offering the best windshield repair and replacement services. Almost all damage from a car collision will be covered under your insurance, especially windshield damage since it is a safety hazard to drive with a damaged windshield. We will most likely replace your windshield when your car arrives. If your windshield has a chip, we offer chip repair services as well.
CAR WRAPS
A car wrap is a fairly new technology that involves using vinyl sheets to wrap your car in order to add in graphics, to change its color, or to add on a business promo without affecting the overall value of your car. It's an alternative to the traditional auto body paint job. Car wraps are cost-efficient, they protect your vehicle, and they are easy to take off, leaving your car as it was before.
Autobahn Collision Center on Hawthorne Blvd offers car wraps however you want them. Car wraps are completely customizable, coming in a wide selection of colors, textures, patterns, and finishes. When applied by a professional auto body shop, no one will be able to tell that your car has been wrapped. Car wraps are great for those who lease a vehicle and can't change its color, to those who want to advertise a business but maintain their car's value.
VEHICLE RESTORATION
Many car enthusiasts have old cars that they want to have restored. Perhaps you have started a car restoration project, but you just don't have the time anymore to work on it, or you inherited a car that you just don't have the skills to restore.
Autobahn Collision Center on Hawthorne Blvd offers amazing car restoration services for those who need help bringing a car or truck back to life. Our expert car technicians will take apart the car and determine exactly what it needs. We can do as much or as little to your car as you like, from just giving your old car a custom auto paint job to taking a car that doesn't run and making it purr like a kitten. Our car restoration services are completely customizable to meet your needs.
Whether you need a full car or truck restoration, an auto body paint job, a windshield repair, or collision repair, Autobahn Collision Center on Hawthorne Blvd can help. With over 20 years in the auto body business, we've got the tools, the technology, the expertise, the knowledge, the customer service, and the passion and dedication to get the job done right. Call us today to get started!
CONTACT US TODAY FOR:
• A free estimate
• Help with your insurance claim
• A lifetime warranty on all the work we perform
• The best customer service
Don't wait any longer — the sooner you call Autobahn Collision Center in Torrance, the faster you will have your car back, and the better it will look!