BUSINESS HOURS
Mo, Tu, We, Th, Fr
8:00am – 6:00pm
Sa
9:00am – 1:00pm
TORRANCE BODY SHOP
At Autobahn Collision Center on Western Ave., we are always ready to provide you with the best auto body repair in the area. For more than 20 years, we have gone the extra mile for every one of our customers. From the smallest dentless paint repairs to full vintage car restorations, we are ready to help your vehicle look better. As a Top Rated Local® body shop, we will do everything possible to perform repairs and restorations that exceed your expectations while staying on a timeline that works for you.
You have a choice when you need body work, and we know that we will be the right choice for you, thanks to our dedication to excellent customer service and work that is so good, no one else can even come close. We offer free estimates on repairs, and we are happy to help you with your insurance claims, so get in touch with us.
EVERY REPAIR AT AUTOBAHN COLLISION CENTER:
Carries a lifetime warranty
Includes OEM parts and paint
Are performed by trained and skilled technicians
Contact us today for an appointment, or browse the rest of this page to learn more about our shop. No one else in Torrance can provide the incredible results we can, so don't wait!
FOUR REASONS TO CHOOSE AUTOBAHN COLLISION CENTER FOR YOUR AUTO BODY NEEDS
While there are many, many reasons to make Autobahn your go-to body shop in Torrance, we wanted to outline four of the most important things about our business. When you are ready to learn more or schedule an appointment, give us a call at our Western Ave. location!

EXPERIENCE
You have a glut of auto body repair shops to choose from. Some are new, some are old, some look great, and others look more like a junkyard than a shop. While there's a lot to be said about first impressions, we believe that our longevity says a lot more. For over 20 years, we have worked to repair and restore our customer's vehicles. When our shop opened, most of us were already highly trained and experienced technicians who wanted to provide people with expert repairs at a fair price.

PASSION
Over the last two decades, we have continued to work and learn. We spend a lot of time each year attending classes and intensive seminars to further refine our skills while constantly adding new ones. For us, making your car look as if nothing had ever happened to it is exciting, fun, and challenging. We live for the thrill of reworking panels and applying paint. We can't wait to repair and restore another classic vehicle. Our passion is something that can't be faked, and it can't be matched by any other collision repair shop around.

CUSTOMER SERVICE
When you call or come in to Autobahn Collision Center on Western Ave., we are ready to help you. If you have questions about how to deal with an insurance company or what something on the estimate means, we're there to explain. Each time we write an estimate, we are using the knowledge we have gained after years in the business to ensure that you will drive away in a safe vehicle that looks the way you dreamed it would look. We don't waste your time, because we know that you need to have your car ready as soon as possible.

EQUIPMENT
In order to properly apply our knowledge and skills, we have the right equipment and tools to take on any job. While many shops try to specialize in one or two areas, we have done everything possible to make every part of our auto body repair shop into a specialized shop. Our painters can handle everything from prepping a panel or bumper to multi-colored, incredibly complex, full resprays. Our frame repair techs know how to pull everything from steel to aluminum, and they will always use the most precise measurement system available.
The team at Autobahn Collision Center would not be able to do half of what we do half as well as we do without tools and equipment that are as specialized as they can be. The right tools allows us to perform the work more efficiently which helps to keep prices low. Call us today to learn more..
ALL OF OUR AUTO BODY WORK IS PERFORMED:
• By certified technicians with years of experience
• Using cutting-edge tools and the best equipment available
If you're anywhere in Los Angeles county, you deserve the best auto body repair available, so give us a call or stop by our Western Ave. shop today.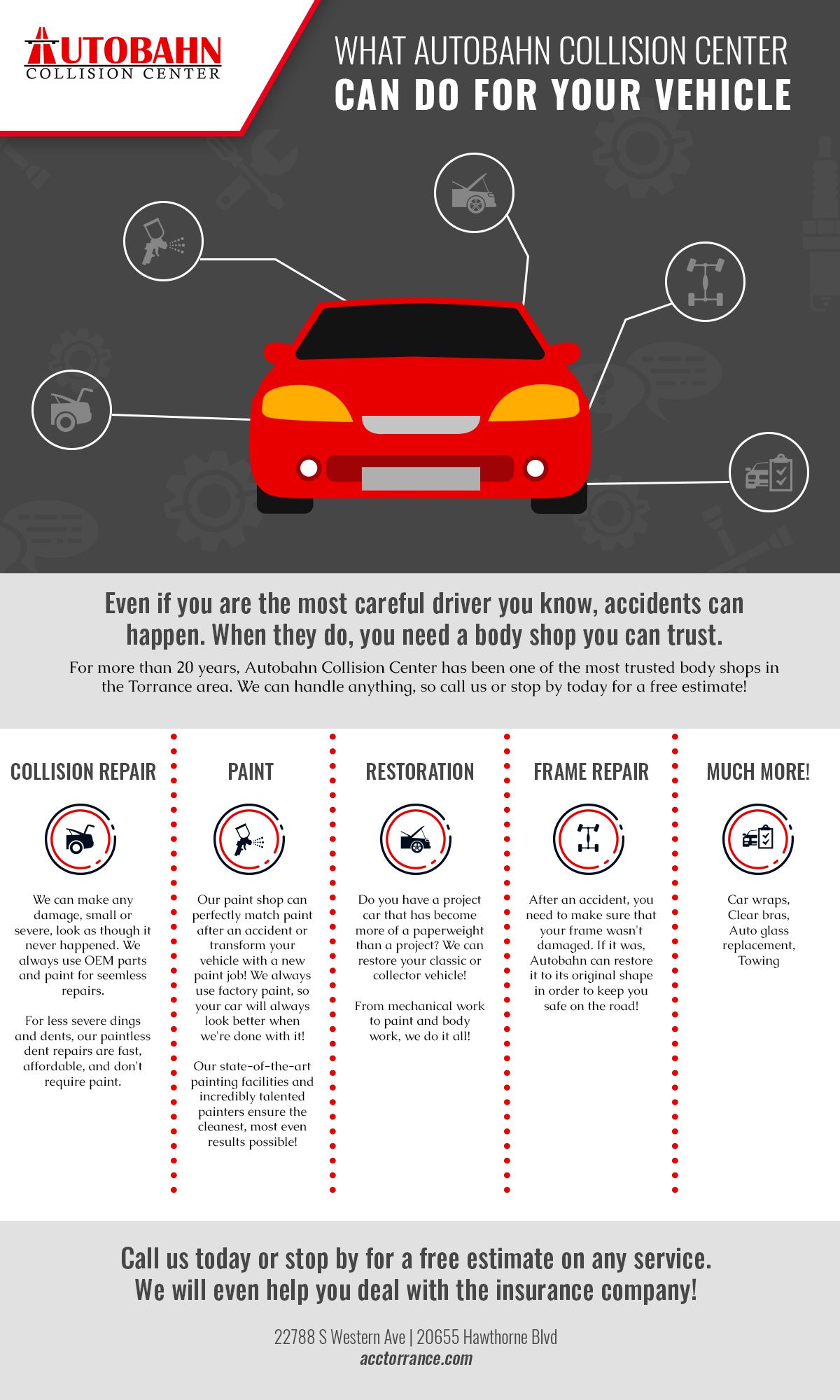 COLLISION REPAIR IN TORRANCE
Collisions come in all shapes and sizes, which means that you need a body shop that understands how to tackle everything that might come in the door. At Autobahn Collision Center, we have decades of experience returning cars to like-new condition. When you trust us with your vehicle, we perform all repairs in-house. Keeping everything under one roof allows us to ensure that every repair is being done correctly and that each part of your vehicle receives all of the attention that it needs.
We start by performing a thorough evaluation of the damage in order to write the most accurate estimate possible. When we have your approval, we will order OEM parts and paint, and then the work begins. By the time you come to pick up your vehicle, you won't be able to believe that it had ever been in an accident! Call us to learn more.
AUTO PAINT IN TORRANCE
Finding a paint shop that does the job well without charging an arm and a leg might seem impossible until you've talked to the auto paint experts at Autobahn Collision. Our painters love what they do, and it shows in every bit of work that they do. Whether you need a single quarter-panel painted or you want to completely transform your truck, car, or SUV with a new color, we would be happy to make it happen.
Our paint shop works alongside the collision repair team to ensure that your vehicle is being brought back to life as efficiently and perfectly as possible on the timeline that we provided for you. Contact us today to learn more about auto paint at Autobahn Collision Center on Western Ave. in Torrance!
TOWING SERVICES IN TORRANCE
If you have been waiting for an insurance company to pay for work, your vehicle might be stuck at your home or at another shop. Whatever the reason may be, Autobahn Collision Center can tow your vehicle to our Western Ave. shop so we can start to perform all of the repairs needed to make your car look the way it used to before an accident.
Our towing team knows how to safely load, secure, and transport any kind of vehicle, so you won't have to worry about any additional damage when you trust us with the tow. Call us today to schedule a pick up!
INSURANCE CLAIMS IN TORRANCE
As if having a damaged or undrivable car wasn't bad enough, being forced to deal with an insurance company can be so frustrating that you might consider buying a bus pass. Don't throw in the towel just yet; let us talk to the insurance company for you.
As a body shop, we deal with insurance companies every day. We understand how they operate and what they need in order to process your claim or approve repairs. Our decades in the industry mean that we know many people at these companies, including adjusters and agents, so, in many cases, we know exactly who we need to speak with in order to get things moving.
Stop wasting your precious time — let us deal with the insurance companies and let us provide you with the best auto body repairs in Torrance. Call us today to learn about all of the ways that we can make the situation less stressful for you.
FRAME REPAIR IN TORRANCE
Your vehicle's frame is essential to the way that your truck, car, or SUV handles, but, more importantly, it is also responsible for keeping you safe while you drive. A bent, twisted, or otherwise weakened frame can spell disaster if you were to get into another wreck.
Using state-of-the-art technology, we can restore and repair almost any kind of frame damage. We never settle for "close-enough," so you can rest easy knowing that the next time you drive your car, it will handle the way it should and that it will help keep you safe in the event of an accident.
PAINTLESS DENT REMOVAL IN TORRANCE
Paintless dent repair is as much an art as it is a science. Luckily, the technicians at our body shop are scientists and artists when it comes to affordable, effective, and fast auto body repairs. If you aren't sure whether your car needs more traditional dent repair or if it might be a candidate for PDR, stop by our Western Ave. location. We can quickly check out the damage and tell you which option would be right for the vehicle.
If one collision repair shop has told you that the damage is too severe for paintless, let us give you a second opinion. We might say the same thing, but if we can perform a PDR miracle, it can save you a lot of money and a lot of time!
AUTO GLASS IN TORRANCE
Driving around with a damaged window or windshield isn't just unsafe, it can be illegal. If you have small pits and cracks, or a full-on spider web making its way across your windshield, give Autobahn Collision Center a call. We can quickly replace any of the glass in your vehicle with high-quality options that will make your car safer and more pleasurable to drive.
Call us today to set up an appointment or to learn about auto glass costs, and why it isn't a good idea to choose the cheapest provider of glass for your vehicle.
CAR WRAPS IN TORRANCE
Car wraps are an excellent way to change the way your car looks without spending the kind of money that a full paint job would cost. At Autobahn Collision Center, we can help you inject some style into your car with a new color or we can help you protect the paint you have with a clear wrap.
When applied by our professional technicians, car wraps go on quickly, look great, and offer protection that nothing else can provide. Best of all, car wraps are easy to remove and will not cause any long term damage to your paint. If you want to learn more, please contact us today!
VEHICLE RESTORATION IN TORRANCE
Did you buy a classic car hoping to spend your weekends resurrecting it? Did you inherit a car from a family member that is sitting under a tarp, just waiting to be fixed up? Did life get in the way? If so, call Autobahn. In addition to being the auto body shop you can count on for reliable body work and paint, we are also dedicated, enthusiastic mechanics and restoration experts. No matter how much or how little is left to a restoration, we can help your project get out of the garage and onto the road.
Whether you have a classic, mid-century muscle car or a flashy 80s coupe that needs some TLC, we would love to discuss what you want and how you want to approach the restoration. We have helped many people breathe new life into their projects and we want to make it happen for you, too.
CONTACT US TODAY FOR:
• A free estimate
• Help with your insurance claim
• A lifetime warranty on all the work we perform
• The best customer service
Don't wait any longer — the sooner you call Autobahn Collision Center in Torrance, the faster you will have your car back, and the better it will look!